Akoustis (NASDAQ:AKTS) is a designer and producer of RF filters used in networks such as mobile networks and WiFi. Their core technology is their patented XBAW filter technology which is optimized for the more advanced networks: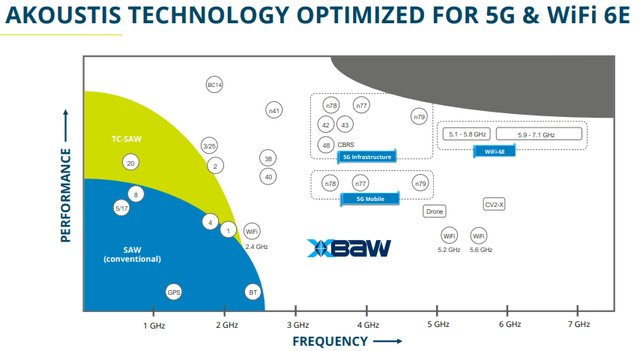 We were following another company, Resonant (RESN) which makes similar claims and it is difficult to tell them apart for a non-industry insider. Resonant has meanwhile been acquired by its main customer Murata, for almost 4 times its share price. Something similar could happen to Akoustis, but of course there are no guarantees here.
But ultimately we don't have to, the market decides and aside from the fact that the market can support more than one solution, it's market acceptance that will make the difference.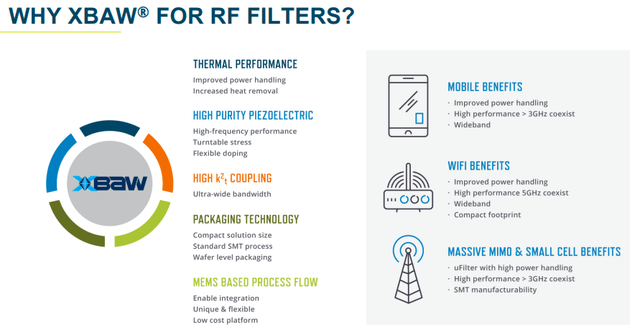 In terms of market acceptance, Akoustis is doing very well as they have a rapidly growing number of winning designs and customers already in production and customers tend to come back for more. They need to scale fairly quickly, as the business is still bleeding money and revenue, while growing rapidly, is still tiny: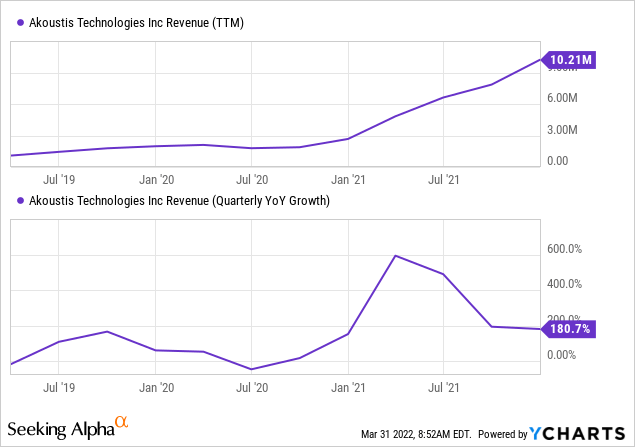 Stocks have started to stabilize: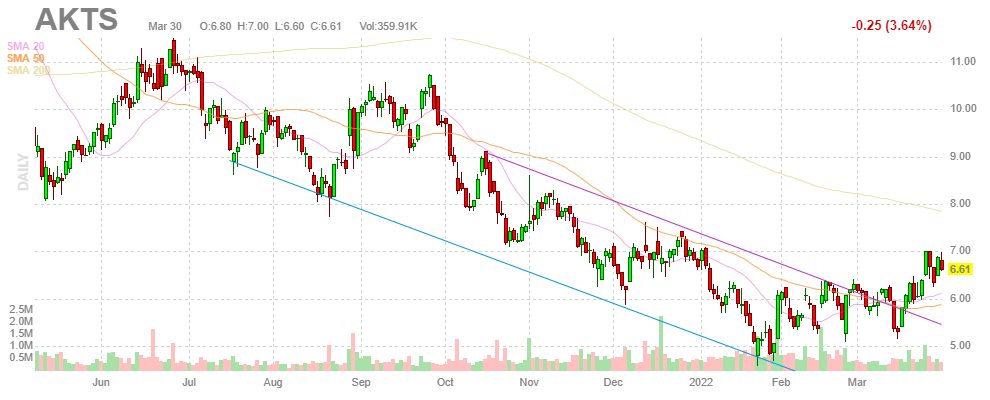 Markets
Here are the market segments served by the company: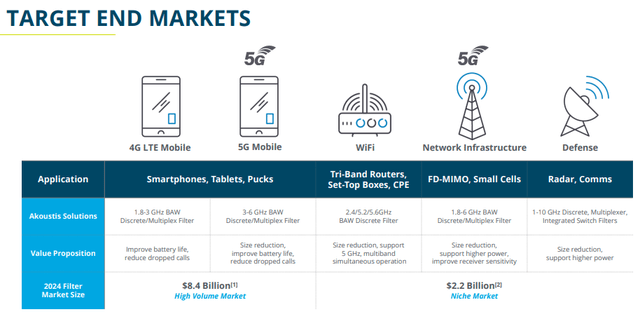 The company produced a long list of design and production wins in its earnings PR and earnings presentation slide (Q4CY21=Q2FY22):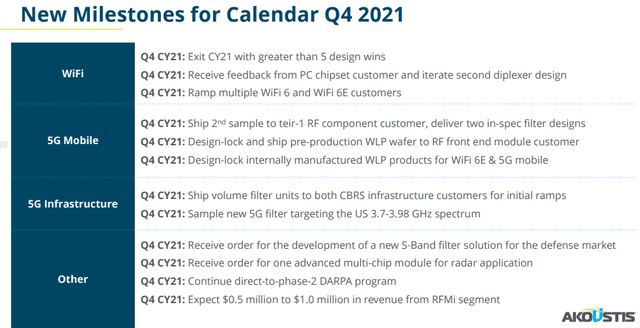 So we summarize:
5G market
This is the market with the largest TAM, the company gained two new customers in the second quarter and now has 4 customers. The new customers are a Tier 1 module manufacturer and a Tier 2 module manufacturer focused on Asian markets.
If the company scales successfully with the Tier-1 module manufacturer, management expects them to enter into a foundry agreement with a production ramp for H2 2023 (timing).
The company already has a foundry agreement with its other Tier 1 customer, but production will have to wait as the customer redraws their filter design.
The two previous customers are still in the sampling stage, a production ramp is not expected before the end of calendar year 2022.
Wireless
The company has two customers in production and won two design contracts during the quarter with 5 additional Wi-Fi design wins after quarter-end, bringing the total to 13 (vs. 5 in Q1), of which 8 were in WiFi 6E (WiFi 6E produces higher margins on a higher price of approximately 25% because the content of the filter is more important) .
The company is also developing a 6E WiFi diplexer for one of the largest PC manufacturers, with the first design already shipped to the customer. WLP's production is done in-house at their New York factory to control the quality, cost, and customization of advanced packages. The diplexer is not an isolated production line (Q2CC):
One of the main characteristics of our technology is to be able to integrate more than one filter in an integrated module. And I think the first example is a diplexer that we have in the works.
5G network infrastructure
The company has two Citizens Broadband Radio Service (CBRS) customers, one of which is expected to go into production in the third quarter (December quarter) and the other in the fourth quarter (March quarter).
There were three design contracts for CBRS during the quarter. In total, the company has more than ten customers, five of which have already placed orders.
Other market segment
Akoustis enters the RF synchronization and frequency market with its XBAW resonators, in collaboration with a leading manufacturer of synchronization RF components. This segment is a significant opportunity.
The company has an existing R&D contract with DARPA and has submitted a multi-million dollar contract proposal to extend the operating range of its XBAW RF filters up to 18 GHz.
Capacity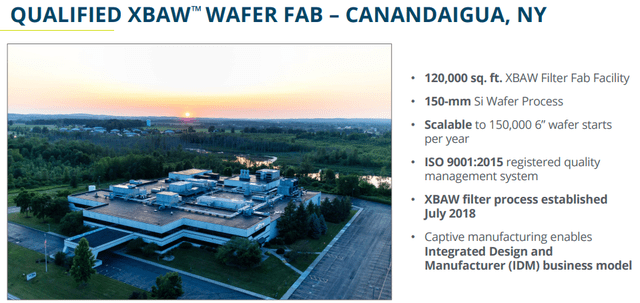 CapEx expansion lead times are long
American support
Bringing WPL production in-house doesn't really require a lot of additional CapEx.
Innovation
The company has 56 issued patents and 93 pending patents, but it continues to innovate, since the Q2CC:
We continue to work on introducing the first samples of a revolutionary new material that offers both industry-leading BAW microfilter power handling capability, as well as the ability to cover wide bandwidths for base stations. macro and other applications that require high power.
Acquisition RFMi
Akoustis acquired a 51% majority stake in October 2021 for $6 million in cash and 2.5 million shares, with a right to purchase the remaining 49% this year. For rationale, see the PR, the focus on new markets and new sales channels. RFMi exceeded expectations in Q2, from flat to down in Q3, then up in Q4.
Q2 results
Revenue of $3.7M, up 96% sequentially
non-GAAP operating loss was $12.3 million
CapEx expenses were $7.1 million, compared to $5.7 million in the first quarter.
There are supply chain issues, especially on SoC supplies and CapEx laminates and equipment, all of which have extended lead times.
Outlook
Third-quarter revenue will increase 25% sequentially, with production customers growing from 5 to more than 8 by the end of the quarter. The company exited 2021 with five customers in production and aims to double that number this year. Keep in mind that the cycle time is 9-15 months from concept to production.
They have a list of Q3 (March) milestones by segment in the Q2CC which offers a detailed checklist, they are already expecting 8 customers in production by March, so the 10 for 2022 seems pretty doable.
There is also some conservatism in the guidelines due to supply chain issues.
Margins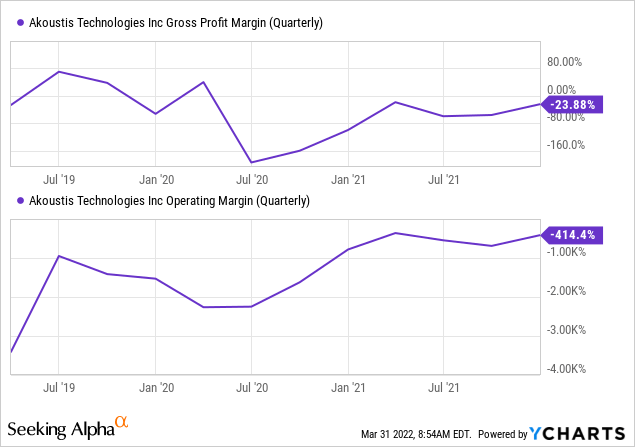 Margins are still well below expectations, but with production ramping up, things should improve significantly, starting in Q2CC:
And also, the use of fab, which will also lower the cost of wafers. So the yields, the cost of the laminate, the size of the product, and then, as I mentioned earlier, the degree of integration we can do and the functionality we can bring to the module. This is going to allow us to get higher ASPs at a lower cost. Integration is therefore certainly one of the paths to profitability.
Evaluation
Investors in these types of stocks face questions about how quickly the market adapts, and therefore how much revenue ramps up, versus the loss of cash and the risk of dilution.
Well, the surge in revenue is pretty impressive, but it's coming from a very small base, so the company isn't near the end of the cash bleed, which is actually accelerating: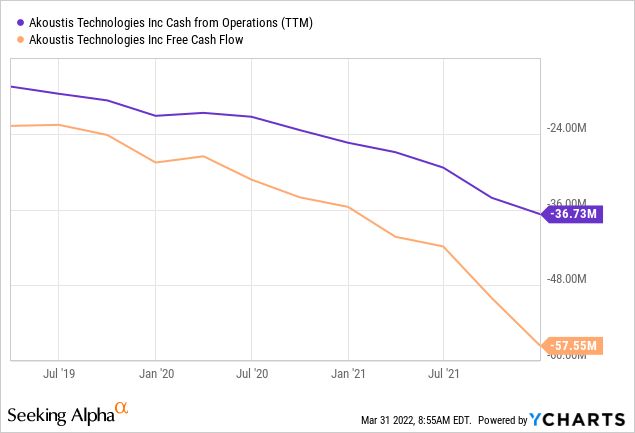 The company had $67.5 million in cash at the end of the second quarter (including a note of $13.4 million from ATM stock sales). We're inclined to say it'll probably last them less than a year, as revenue is growing rapidly, but there's also an increase in CapEx requirements.
The company has operating expenses of $14.3 million per quarter, but it's hard to calculate a break-even point without a firm grip on gross margins (because these are always negative). Examining competitors' gross margins only provides a rough indication, as none of them are pure RF filter sets.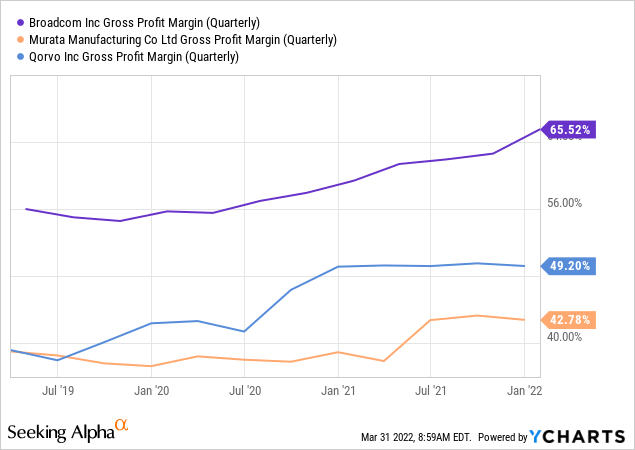 Assuming that a gross margin of 40% requires a revenue rate of $150 million to break even, the company is nowhere near that. A gross margin of 50% would reduce that to $120 million.
Given the CapEx spend, a positive cash flow might be a little further away. In the first 6 months the operating cash outflow was $23.5m and another $12.8m was spent on machinery so despite the $67.4m in cash we will likely continue to see a dilution: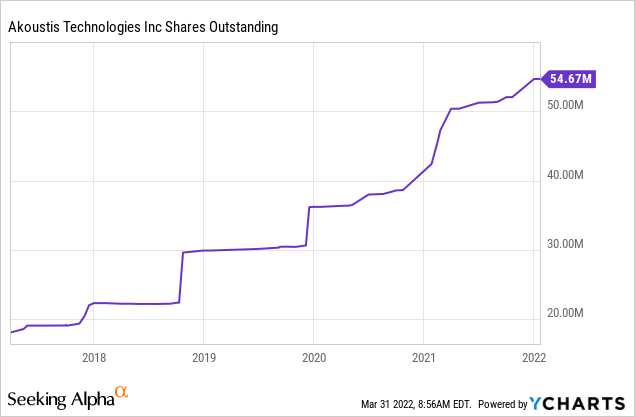 The company has no debt, although outstanding warrants and performance options, no total amount was provided in the 10-Q, but they did not deviate so much from the levels provided in the 10 -K:
2.5 million options
1.75 million restricted stock units
167,000 warrants
So there are 4.4 million more shares to come for a total of 59 million fully diluted shares. The company's market capitalization is at least $490 million, while its electric vehicle is around $420 million. Sales are far from close, so valuation metrics don't make much sense right now.
SA contributor Michael Fitzsimmons produced an indicative valuation method based on production capacity (500M filters) and an average ASP of $5 of which $2.5 goes back to the company, yielding a potential revenue of $1.25 billion of dollars.
This suggests that the shares are very cheap, but keep in mind that we don't know when the company will maximize its production capacity, or how much additional dilution is needed to achieve this.
The company is indeed expanding its production capacity to 500 million filters thanks to a recent order from a leading Tier 1 RF module manufacturer and filter supplier for a new 5G mobile XBAW filter.
Even so, the margins of error are quite generous, if the company gets closer to that 500 million figure in 2-3 years, the shares are indeed quite cheap.
Conclusion
The company is ramping up production and reaping design gains and customers going into production.
Customers tend to stick around for additional designs.
Given the rapid market adoption, it's reasonable to assume that the company will be able to gain a sizable share of a large market, but how big of a slice that's a bit of a leap of faith and therefore buys the shares.
Buying stocks here can work out very well in 12-18 months, but as we saw last year, there are no guarantees, so it's quite a risky bet, but one that can pay off considerable rewards.